Results of the 2013-2014 Competition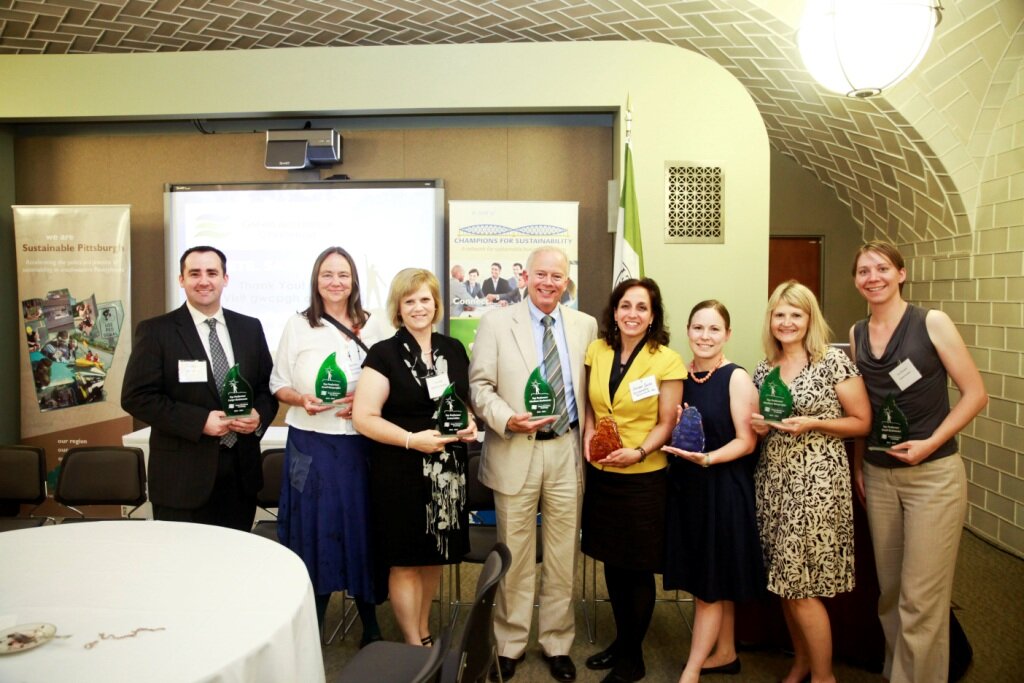 Sustainable Pittsburgh revealed the leaders of the 2013-2014 Pittsburgh Green Workplace Challenge, a yearlong competition for businesses, nonprofits, municipalities, and universities to track and measure improvements in energy, water, waste, and transportation. Over 100 organizations signed up for the challenge, which began in June 2013 and ended on May 31, 2014. Participants completed a total of 1,668 actions, contributing to a more sustainable southwestern Pennsylvania.
Combined, all of the active Green Workplace Challenge competitors saved enough energy to power 2,361 average U.S. homes for a year (26,630,000 kWh of energy savings), translating to $2.16 million in cost savings. Factoring the social cost of carbon, which is the estimate of the economic damages associated with increases in carbon dioxide emissions, the range of dollar savings is between $2.21 and $2.41 million. The amount of energy saved equates to more than all of the occupied homes in the Bluff (468 homes), Glen Hazel (270), Polish Hill (778), and Regent Square (543) for a year.
Find out more about the results revealed at the June 25, 2014 Awards Ceremony: Read the offical press release
TV Coverage of the 2013-2014 Business Winners
TV Coverage of the 2013-2014 Community Organization Top Scorers
The 2013-2014 Top Scorers are as follows:
Large Business Category: FedEx Ground – 650 points.
The large business runner up is BNY Mellon – 611 points.
Third place in the large business category is: Highmark – 367 points.
Medium Business Category: DMI Companies – 647 points.
The medium business runner up is: Veolia Water Solutions and Technologies – 171 points.
Third place in the medium business category is IKEA Pittsburgh – 165 points.
Small Business: Pashek Associates – 659 points.
The small business runner up is evolve:EA – 642 points.
Third place in the small business category is Evive Station - 26 points.
Municipality/Local Government: Allegheny County – 265 points.
The municipality/local government runner up is City of Pittsburgh – 244 points.
Third place in the municipality/local government category is Cranberry Township – 158 points.
University Category: University of Pittsburgh – 322 points.
The university runner up is Carnegie Mellon University – 146 points.
Third place in the university category is Duquesne University – 107 points.
Medium Nonprofit Category: ALCOSAN – 1,602 points.
The medium nonprofit runner up is Carnegie Museums of Pittsburgh – 140 points.
Third place in the medium nonprofit category is Pittsburgh Zoo & PPG Aquarium – 61 points.
Small Nonprofit Category: Conservation Consultants, Inc. – 486 points.
The small nonprofit runner up is Green Building Alliance – 327 points.
Third place in the small nonprofit category is Global Links – 76 points.
The top scorer in the Observer category, a non-competitive category, is Oxford Development Company.
Special awards were presented for the Top Energy Saver and Top Water Saver. Sustainable Pittsburgh presented Conservation Consultants, Inc. (CCI) with the Top Energy Saver award. CCI demonstrated a 22 percent reduction in energy. ALCOSAN received the Top Water Saver award, reducing their water usage by 76 percent.
View photos of the 2013 - 2014 GWC Finale and Awards Ceremony
Check out some quotations from the 2013-2014 Competition award winners
Coverage in the Pittsburgh Post-Gazette: BNY Mellon, CCI Center, City of Pittsburgh, University of Pittsburgh
Full List of 2013-2014 Participants:
Businesses
Small:
A & H Green Solutions
Artemis Environmental
be Galleries
Cardinal Resources LLC
Circuits, LLC
CM Services
Environmental Planning & Design, LLC
E Squared
Evive Station
evolveEA
Jonano
Kanakadhara Financial
LM Cleaning Company
NORESCO
OTB Bicycle Cafe - South Side
Pashek Associates
Sweet & Sons Insurance Agency
The Allegheny Group
The Efficiency Network (TEN)
Workscape Inc.
Medium:
Berner International Corp.
DMI Companies
Eaton
IKEA Pittsburgh
Levin Furniture
PITT OHIO
The Mall at Robinson
Veolia Water Solutions and Technologies
WESCO
Large:
ALCOA
Bayer Corporation
BNY Mellon
Direct Energy
FedEx Ground
Highmark
Michael Baker Jr., Inc.
The PNC Financial Services Group
Nonprofits
Small:
Audubon Society of Western Pennsylvania - Beechwood
Audubon Society of Western Pennsylvania-Succop Conservancy
BikePGH
Clayfisher Studio
Colcom Foundation
Conservation Consultants, Incorporated
Coro Center for Civic Leadership
Global Links
Grantmakers of Western PA
Green Building Alliance
Group Against Smog and Pollution
Homewood Children's Village
Lawrenceville Corporation
Neighborhood Legal Services Association
Nine Mile Run Watershed Association
Oakland Business Improvement District
Oakland Transportation Management Association
PA Housing Finance Agency - Pittsburgh Office
Pittsburgh Center for Creative Reuse
Pittsburgh Green Innovators
Pittsburgh Hispanic Development Corporation
Sports & Exhibition Authority
The Heinz Endowments
Venture Outdoors
Medium:
ACTION Housing Inc.
Allegheny County Sanitary Authority
Carnegie Museums of Pittsburgh
Children's Museum of Pittsburgh
East End Food Co-op
Greater Pittsburgh Community Food Bank
Peoples Oakland
Pittsburgh Opera
Pittsburgh Zoo & PPG Aquarium
Victim Outreach Intervention Center
Westmoreland County Airport Authority
YMCA of Greater Pittsburgh
Universities/Colleges
Carnegie Mellon University
Chatham University
Community College of Allegheny County
University of Pittsburgh
Duquesne University SMBA Program
Municipal/Government
Allegheny County
Borough of Millvale
Borough of Monaca
Brentwood Borough
City of Latrobe
City of Pittsburgh
Cranberry Township
Homestead Borough
Ross Township
Shaler Township
Township of Indiana
Township of Upper St. Clair
Urban Redevelopment Authority of Pittsburgh
Observers
Allegheny CleanWays
DECO Resources
Del Monte Foods
Environmental Charter School at Frick Park
GAI Consultants, Inc.
La Roche College ESL Program
Local Government Academy
Mullin & Lonergan Associates
Oxford Development Company
PULSE
School District of Pittsburgh
Spectrum Charter School, Inc.
Sustainable Pittsburgh