GWC 3.0 Results (2014-2015)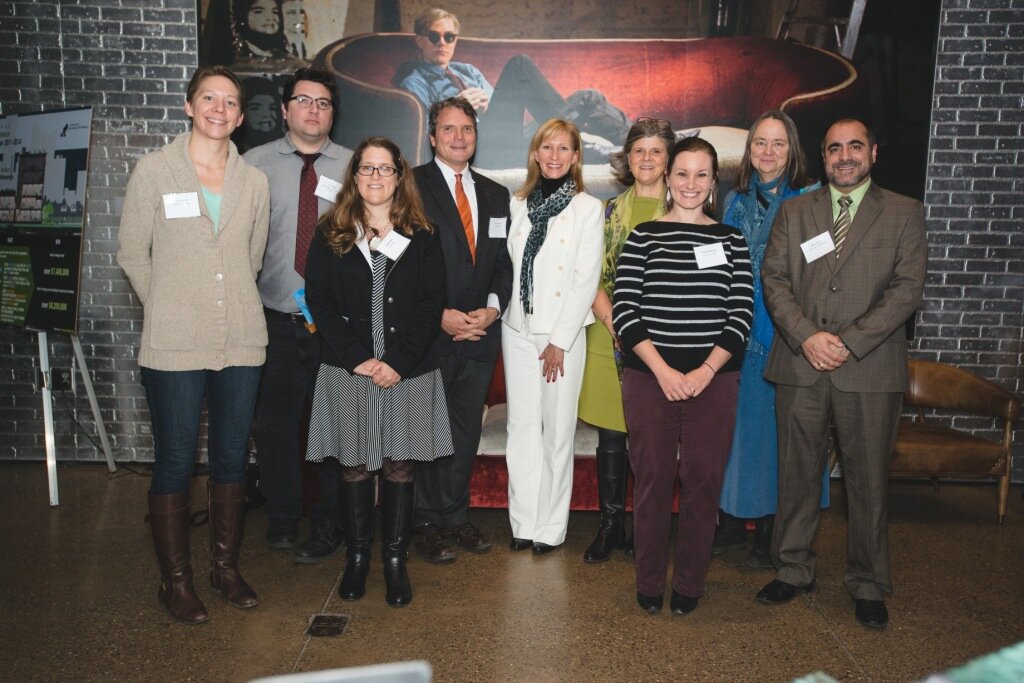 In GWC 3.0, 1,931 actions were taken collectively by 50 active participants
Energy:
GWC competitors saved enough energy to power 1,541 average U.S. homes for a year (18,602,681 kWh of energy savings), translating to $1.5 million in cost savings. Factoring in the social cost of carbon, the savings are between $1.65-$2 million. The amount of energy saved equates to more than all of the occupied homes in Polish Hill (697 homes), Swisshelm Park (625 homes), and St. Clair (209 homes) for a year.
Waste:
GWC participants reduced landfill waste by 436 tons, or 35% compared to the baseline. Total waste, which includes compostable, recyclable, and landfill materials, was reduced 517 tons or 24%. This is an increase in the diversion rate by 20%.
Greenhouse Gases:
Participants saved over 2,865 metric tons of carbon dioxide equivalent, which translates to roughly 73 airline flights of 500 miles: roughly 2/3 of a day worth of all flights leaving Pittsburgh International Airport on a typical day. Additionally, participants saved 2,700 pounds of PM 2.5 from entering the atmosphere.
Media Coverage (Click on Each Item):
Our Region's Business: "Pittsburgh Employers Participate in Green Workplace Challenge" Video
Talking Pittsburgh Video
Sustainable Pittsburgh's Green Workplace Challenge Winners: How they did it
Winners Announced in Green Workplace Challenge
Comcast Newsmakers: "Green Workplace Challenge - 2" Video
Comcast Newsmakers "Green Workplace Challenge - 1" Video
Local Businesses & Organizations Honored For Their Environmentally-Friendly Efforts
Pittsburgh Green Workplace Challenge Highest Scoring Organizations Recognized
The Hydrant by Fireman Creative "Green Workplace Challenge"
County, Departments, Employees Receiving Honors and Accolades
Highmark is chosen as winner of the Pittsburgh Green Workplace Challenge in the large business category
GASP newsletter "Green Workplace Challenge: 1st Place!"
GTECH wins the Green Workplace Challenge!"
Pittsburgh Green Workplace Challenge Closes Its Third Competition as evolveEA Wins in Small Business Category
PEC Celebrates Green Workplace Achievements
A Real Challenge
Pittsburgh vs. climate change
Sustainable Pittsburgh's Green Workplace Challenge winners reduced landfill waste, cut water usage and more
Co-op Recognized in Green Workplace Challenge
The Mall at Robinson Wins Pittsburgh Green Workplace Challenge
Sustainability at Highmark: 2015 at a Glance
The 2014-2015 GWC top scorers in each category were:
Competition Category Awards:
Businesses:
Micro Business Category Winner: Pashek Associates – 235 points
Small Business Category Winner: evolveEA – 598 points
Medium Business Category Winner: The Mall at Robinson – 507 points
Large Business Category Winner: Highmark – 1,003 points
Nonprofits:
Micro Nonprofit Category Winner: Group Against Smog and Pollution (GASP) – 431 points
Small Nonprofit Category Winner: GTECH –722 points
Medium Nonprofit Category Winner – Carnegie Museums of Pittsburgh – 743 points
University:
Category Winner: University of Pittsburgh – 770 points
Small Municipality/Local Government:
Category Winner: Monaca Borough – 310 points
Large Municipality/Local Government:
Category Winner is Allegheny County – 1,353 points.
Top Saver Awards:
Top Energy Saver: Carnegie Museums of Pittsburgh (21.5% Reduction)
Top Water Saver: Carnegie Museums of Pittsburgh (17% Reduction)
Top Waste Reducer: Allegheny County (62% Reduction in Landfilled Waste)
Top Commuter Footprint Reducer: GTECH Strategies (9.4% Reduction)
Top Legacy Performer: Conservation Consultants, Inc. (65.5% Reduction from 2010 - 2015)