Participant Stories
GWC Participants Share Their Stories
Conservation Consultants Inc.

"Initially Conservation Consultants, Inc. (CCI) became involved in the Green Workplace Challenge (GWC) to give structure to our LEED recertification effort. GWC is easier to complete but quite similar in the green building and behavior components addressed. To our surprise we finished first in our category in the competition last year. This year we really had to stretch to find categories in which to submit.
Since we specialize in energy efficiency we decided to up our anti on our building's energy efficiency. We scheduled training workshops for our employees to fine tune their energy auditing skills. We also took action on our buildings energy audit to make our already energy efficient building more so.
GWC helped CCI put structure on our ever ongoing greening efforts."
-Indigo Raffel, Education Coordinator, Conservation Consultants Inc.
Moon Township

"The GWC was a great template for Moon. As far as lasting results, we switched our electricity sourcing over to 100% wind power and retrofitted 138 streetlights to LED. Working towards the actions got our Environmental Advisory Council energized and interested in participating more in projects and initiatives throughout the municipality."
-Rebecca Kiernan, Senior Resilience Coordinator, City of Pittsburgh (formerly Green Initiatives Coordinator of Moon Township)
Pashek Associates

"The Green Workplace Challenge has helped Pashek Associates climb the steps towards becoming a more sustainably run office. As a small design office with few resources in both time and money we were still able to take actions that make a difference in our third year of competition. This year we installed motion sensor lighting in our hallways and kitchen, switched to 100% recycled and process chlorine free paper, started buying 100% green energy, monitored our indoor air quality for possible future action, and implemented a rolling transition to LED lighting. The biggest disappointment was having only one other challenger in our category to compete with. So micro businesses with 10 or fewer employees, there is no excuse, if we can do it you can do it!"
-Sara Thompson, Vice President of Sustainability, Pashek Associates
Pennsylvania Resources Council

"PRC rose to the occasion for the 2014-2015 Green Workplace Challenge year! Although organizationally most PRC Staff practice waste, water, and energy conservation on a regular basis, the employees wanted to put it to the test and see what they could do while at work. During this challenge, PRC learned many new resources to tackle waste, water, and energy consumption from other organizations nationally and even locally. The GWC Staff was very helpful and attentive when they had questions during the one year process."
-Teresa Bradley, Zero Waste Services Coordinator,Pennsylvania Resources Council
IKEA

"IKEA Pittsburgh has really enjoyed being a part of the green workplace challenge again this year. Just having a checklist of actions to consult helps us to determine more ways that we as a company can work toward a more sustainable footprint. The legacy points this year were appreciated as it gives us some credit for our previous work and the innovative actions allowed us to talk about new actions we have taken apart from the usual action items. It's so great to know just how much of an impact our combined small actions are making in Pittsburgh!"
-Jennifer Stockdale, Marketing Specialist, IKEA
Kanakadhara Financial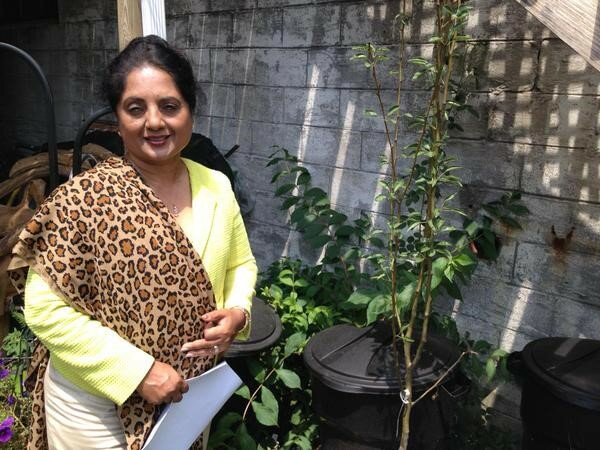 "We at Kanakadhara Financial Enterprise, are delighted to participate in GWC initiatives. Replacing the floor with bamboo flooring was the start.
We installed rain barrels and already our water bill was slashed by 2/3 rd. We hope to install solar panels and energy efficient doors and windows.
We have advocated Meatless Mondays with all our clients and neighbors, and look forward to working with other businesses to eliminate Styrofoam packaging.
Not only are these good for the environment, they are good for the pocket book too!"
-Kanak Iyer Ph.D, President, Kanakadhara Financial
Mall at Robinson

"The Mall at Robinson management team has been implementing sustainable initiatives since 2005. Participating in the GWC has given us the opportunity to evaluate our sustainable performance and has prompted us to explore new actions. We appreciate the support and direction the Sustainable Pittsburgh team has provided us."
-Beth Edwards, General Manager, Mall at Robinson
Five Star Development

"Seeking a zero waste office is good for everyone. Five Star was able to realize a major transformation in our office environment shortly after we began the GWC. Our air quality and trash/recycling load, the balance between artificial and day light, the plants we share and foods we eat, even the water we drink –were all improved by our participation and we even saved money! As a 20 year veteran of the tech Industry, Five Star knows impact and longevity come from improving year over year, so we are looking forward to next year's challenge!"
-Lou Camerlengo, President and Cofounder, Five Star Development
Green Building Alliance

"Green Building Alliance is dedicated to the Green Workplace Challenge all year round. Our entire staff embraces and supports the goals of the Challenge, actively making the best decisions daily and ensuring that all things are documented. The GWC has raised awareness in our office about all of the little things that can add up to make our office more sustainable and a happier place to work."
-Deanna McPeak, Relationship Development Director, Green Building Alliance
Higher Education Climate Consortium
"Besides the opportunity to beat fellow HECC schools, I have found the greatest benefit of GWC is the ability to engage students (and me!) in learning about the green practices going on at their respective campuses. In the same way that AASHE's STARS presents ideas for colleges and universities to adopt, the GWC generates potential actions for schools to undertake that are often Pittsburgh-specific. The GWC workshops are an added bonus, as HECC representatives are able to connect with members from other sectors to learn their best practices and snag some ideas to win points. Most of the HECC schools are already involved in cataloguing their green efforts for nationwide reporting; GWC presents a way to accomplish that goal plus have a little fun while doing so!"
-Faith Nicholas, SCA Green Cities Fellow, Higher Education Climate Consortium
Borough of Monaca

"The GWC inspired the Borough of Monaca to become better environmental stewards for our future citizens. We engaged our employees in the workplace, but what we remarkably noticed that it resonated with them outside of the workplace and into our community as well. The GWC helped us in promoting to both our employees and residents of our moral obligation in being more "Sustainable." We are proud to state that through our participation in the GWC our results show a significant Economic, Environmental, and Social improvement throughout our Borough."
–Mario Leone, Borough Manager, Borough of Monaca
evolveEA

"The GWC has helped us measure our sustainability impact as a workplace and we also value the network of participating organizations for elevating the regional conversation on the environment. Our managing principal, Marc Modor, AIA, LEED Fellow, remarked today, "Over the years it has been rewarding to be part of the GWC and to be recognized by Sustainable Pittsburgh and our peers in the region for doing what we do every day—advocating for sustainability and advancing solutions in our environment."
-Daniel Klein, Communication Designer, evolveEA
Forms+Surfaces
"The Green Workplace Challenge brought to light additional steps that we can take toward meeting our short- and long-term sustainability goals. The guidebook and checklist were well organized in an understandable format and the workshops were very informative. We look forward to participating in the next GWC!"
-Sandra Closson, Sustainability Manager, Forms+Surfaces
Highmark
"At Highmark, our efforts to become a more sustainable company align with our corporate values, specifically stewardship, to improve the health of the communities we serve. The Green Workplace Challenge supports this journey and allows us to track our progress in important areas of resource conservation while competing against others. Thank you GWC for pushing us further!"
-Phyllis Barber, Sustainability Manager, Highmark
Allegheny County

"At Allegheny County, the 2015 GWC has become a team event. Our workforce is engaged in ensuring that the county's efforts to reduce energy and water usage and waste are sustainable and also expand beyond our walls. With active participation by our Green Team and Green Champions throughout the year, our employees have also embraced the efforts at the county and adopted many of the practices at home. Together with the other GWC participants, we've been able to reduce costs, improve performance, and increase long-term environmental sustainability, making our region a better place for all."
-Kathy Hrabovsky, Sustainability Manager, Allegheny County
BNY Mellon

"Not only does the GWC foster some healthy sustainability competition between companies, but it allows the representatives for the company such as Nancy and I to become even more engaged with the operations and activities of our own workplace, as well as find inspiration in the actions of other organizations."
-Alice Bell, Business & Environmental Sustainability Intern, BNY Mellon
ALCOSAN

"After our victory last year, ALCOSAN – Green by Mission, Green by Choice – enthusiastically continued the changes we made and added more sustainable actions, embedding them into our daily habits and workplace culture. Our committee from all levels of the facility approached our work with creativity to discover new ways to carry our green mission further. We conducted an energy audit, waste audit, air quality testing, and an employee survey to identify strategic improvements to benefit the environment, employees, and our rate payers, now and in the future. We are proud of our accomplishments, and extremely excited to help our employees walk tall in our path towards sustainability."
-Megan Cieslak-Mazza, Residuals Specialist & Chair of Green by Choice Committee, ALCOSAN
Carlow University

"BLUE (Benevolent Living Upon Earth) is a new organization on our campus and the Green Workplace Challenge helped us to focus our work as we got started. The event we enjoyed most last semester was Earth Hour. We invited students to turn off the lights in the residence hour and gather in a central location for s'mores and hot chocolate. It was an opportunity to participate in a worldwide event with the goal of helping students to understand how simple it can be to conserve electricity. About 50 students participated."
-Sister Sheila Carney, Special Assistant to the President; Gina Marie McGowan, Student; and Shannon Compolongo, Student, Carlow University
Carnegie Mellon University

"Carnegie Mellon University more than tripled our points for the 2015 Green Workplace Challenge due to the help of our Student Conservation Association Sustainability Fellow that we share with the Higher Education Climate Consortium (HECC), a sector of the Pittsburgh Climate Initiative. What became very apparent to me this year is how essential the SCA Sustainability Fellows are in making the GWC initiative possible for all of us. They coordinated the GWC, supported numerous environmental initiatives, and working as a team, connected organizations together to collaborate on environmental initiatives.
Thank you SCA Sustainability Fellows for all that you do for Pittsburgh!"
Barbara Kviz, Environmental Coordinator, Carnegie Mellon University
Carnegie Museums of Pittsburgh

"No words can express how excited we are to be a participant in the GWC!"
-Tom Flaherty, Facility Manager, Carnegie Museums of Pittsburgh
Duquesne University

"The GWC opportunity fosters sustainability practices that helps students identify and conduct activities that contribute to more sustainable operations. The GWC not only showcases the best practices of one building, the Business school, but it also enables and allows students to know what is already being done in terms of energy conservation, waste reduction etc. and what they can do in the future to be a more sustainable at work and at home. Here at Duquesne's Rockwell Hall we were able to showcase our sustainability initiatives and also foster new student lead initiatives that help integrate sustainability within curriculum as a living/learning laboratory."
-Dr. Robert Sroufe, Murrin Chair of Global Competitiveness at Duquesne University's MBA Sustainability Program
"Some of the initiatives grad students in Rockwell Hall pursued in tandem with the GWC include a Sustainability Week, in which we encouraged fellow students to use public transportation one day and use double-sided printing another day; participation in a University-led clean-up day, which took them to the South Side to collect litter; and various lectures by/"field trips" to hear local sustainability leaders speak, such as people from Phipps, Scalo Solar, Evolve EA and the Green Building Alliance. (As I recall, the GWC action items included lectures and field trips for students.)
These were all wonderful hands-on learning opportunities, contributing to our formation this summer of an energy club we named "Innovation Lab at Rockwell Hall." With mentors including Dr. Sroufe and Craig Stevenson of James Construction, we envision this student group as the next step in Rockwell Hall's transformation into an energy-efficient, truly Green Workplace.
It was a pleasure to participate in the GWC, and I hope we can build on what we've learned to be more competitive next year.
-Gina Johnson, Duquesne SMBA Alumna